Package Deals for Churches
Arc2 Pulpit (70cm/28" wide top) & Water Table Package
About this church pulpit and table set (with AR film and covers)
Get free covers when you order this, our most popular combination.
This is our most popular pulpit with our most popular water table. You will see it at large churches like Hillsong Church and many smaller churches. It is the most popular because while all churches are different, this suits a typical church stage.
More about this church pulpit and water table set:
Most churches have stage lighting and a projector screen.
This means you need anti reflective film. Click here to learn more about anti reflective film. Both the pulpit and table have anti reflective film. If you get the anti reflective film, it is a good idea to get covers too (churches report that most damage occurs to the tops when they are NOT being used by the preacher.) For this reason, we include them free with this package. They are normally $40 each.

Most preachers prefer the larger 70cm/28" wide top. This means you can have a book of A4 notes open, and find space for a bible beside it. Of course its also fine for a minimalist iPad using preacher.

In addition, you can stack the bible and notes. The top angle is specifically designed so that a leather covered bible will not slide back down towards the lip. Many preachers will push a bible up towards the top edge of the pulpit top, and have their notes closer towards them- resting on the lip.

Most preachers like a drink of water beside them, within easy reach. Or they may have extra books and props that they would like to have within reach, but don't want clutter the lectern. Some preachers like to position the water table to the side of the stage, so as they walk and talk, they can walk to the water table and back to the lectern.

The water table is also useful for other styles of service. For example, a sit down discussion style service, where there are several sofas or chairs and the water table in the middle. Some churches use the water table on stage while there are notices or introductions, then the church pulpit is brought on for the main speaker. It is a kind of indication that the preaching is about to begin.

Both the lectern and table require assembly for which we provide the tools. Assembly is easy and only takes a few minutes. See below for prices and freight.

​Like our other pulpits, it's made in Australia so we can control the quality. We do most of the manufacture ourselves. For those parts we don't do ourselves, we like to look over the shoulder of our subcontractors.
Arc2 Pulpit (70cm/28" wide top) & Water Table Package

Freight
Freight Prices
| | | | | |
| --- | --- | --- | --- | --- |
| | Australia | Australia-Express | Rest of World | Rest of World-Express |
| $0-100 total order | AUD $20 | AUD $40 | AUD $50 | AUD $75 |
| $100-500 total order | AUD $20 | AUD $60 | AUD $90 | AUD $135 |
| $500+ total order | AUD $30 | AUD $120 | AUD $120 | AUD $180 |
Add 10% GST to orders sent within Australia
Freight Times
| | | | |
| --- | --- | --- | --- |
| | Australia | Asia/Pacific | Rest of World |
| Normal freight | 1-7 days | 4 days | 8 days |
| Express freight | 1-3 days | 2-3 days | 5 days |
-
Asia/Pacific includes Singapore, HK, Malaysia, Indonesia, Korea, Japan, Taiwan, NZ.
- Orders are sent every Tuesday and Friday. This will affect the freight time.
For example, if you order on a Friday afternoon, your order may not go until the following Tuesday.
- May take extra time to clear customs in your country.
- Freight times are a guide only. Times may vary.
- See
How To Buy
page for more exact times within Australia.
You might be interested in...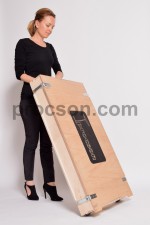 About this plywood case for the Arc2 and Water Table and Preachers Table

This is a versatile and strong plywood box with a lot of design thought and a clever method of making.

It fits an Arc2 pulpit (adjustable or fixed height), or an Arc2 pulpit (adjustable or not) and water table together, or a Preachers table, or a Preachers table and...
About this church pulpit and table set (with AR finish and covers) in black

Get free covers when you order this church pulpit and table combination.
The tops are made from custom anti reflective acrylic. The stem and base are finished with a black, textured powder-coated paint. This emphasizes the curved silhouette of the Arc2. The...