Package Deals for Churches
Black Arc2 Pulpit (70cm/28" top) & Water Table Package
About this church pulpit and table set (with AR finish and covers) in black
Get free covers when you order this church pulpit and table combination.
The tops are made from custom anti reflective acrylic. The stem and base are finished with a black, textured powder-coated paint. This emphasizes the curved silhouette of the Arc2. The painted finish is durable and forgiving- it resists damage.
More about this church pulpit and water table set:
The lectern and table tops are in tinted black acrylic with an anti reflective factory finish (you don't need anti reflective film).
We had this acrylic custom made for us (we had to make a lot!) We found that the textured black finish of the stem and base for both the table and lectern is the most appealing and also the most durable.

If purchasing this lectern and table set, you will get free covers (normally $40 each). You put these on the lectern and table tops when you are not using them. These help to prolong their life. We discovered that most damage to the tops occurs after hours- when the preacher is not using it.

We use textured black powder coat paint from Interpon. Unlike most other paint processes, powder coating is relatively good for the environment, and much safer for workers to apply. The paint is baked on to make it tough. The texture not only looks good (think matt painted cars), but it is more durable than a flat paint finish. We know that in a busy church, the lectern might get knocks and scratches. The textured powder coat paint will stand up to this better than most other finishes.

It would be cheaper for us to use steel and then paint it- after all you cant see it after it has been painted. The problem with paint on steel is that often eventually it starts to bubble or flake. So we don't use steel. We use stainless steel and aluminium- these materials don't flake or blister- so the painted finish will last for many years. In the unlikely event it is damaged, small scratches can be touched up with a black marker pen.

Assembly is required and a tool is provided. Assembly is easy and takes less than 5 minutes. See below for prices and freight.

Australian made.
Black Arc2 Pulpit (70cm/28" top) & Water Table Package

Freight
Freight Prices
| | | | | |
| --- | --- | --- | --- | --- |
| | Australia | Australia-Express | Rest of World | Rest of World-Express |
| $0-100 total order | AUD $20 | AUD $40 | AUD $50 | AUD $75 |
| $100-500 total order | AUD $20 | AUD $60 | AUD $90 | AUD $135 |
| $500+ total order | AUD $30 | AUD $120 | AUD $120 | AUD $180 |
Add 10% GST to orders sent within Australia
Freight Times
| | | | |
| --- | --- | --- | --- |
| | Australia | Asia/Pacific | Rest of World |
| Normal freight | 1-7 days | 4 days | 8 days |
| Express freight | 1-3 days | 2-3 days | 5 days |
-
Asia/Pacific includes Singapore, HK, Malaysia, Indonesia, Korea, Japan, Taiwan, NZ.
- Orders are sent every Tuesday and Friday. This will affect the freight time.
For example, if you order on a Friday afternoon, your order may not go until the following Tuesday.
- May take extra time to clear customs in your country.
- Freight times are a guide only. Times may vary.
- See
How To Buy
page for more exact times within Australia.
You might be interested in...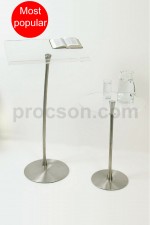 About this church pulpit and table set (with AR film and covers)

Get free covers when you order this, our most popular combination.
This is our most popular pulpit with our most popular water table. You will see it at large churches like Hillsong Church and many smaller churches. It is the most popular because while all churches are...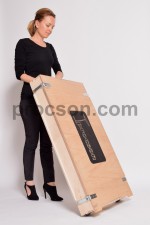 About this plywood case for the Arc2 and Water Table and Preachers Table

This is a versatile and strong plywood box with a lot of design thought and a clever method of making.

It fits an Arc2 pulpit (adjustable or fixed height), or an Arc2 pulpit (adjustable or not) and water table together, or a Preachers table, or a Preachers table and...