School Lectern
Waterfall School Lectern
About this Waterfall school lectern:
This lectern has been designed with centres of education in mind. It is strong yet lightweight and includes shock mounts to help with sound issues.
It is durable yet easy to move around. If your school or institute of education requires a logo or slogan to be applied to the front, it has a large area suitable for this. It also solves many sound problems because it comes with shock mounts for two microphones or a microphone and light. (Please note, microphone and light are not included. Need to be purchased separately.) The shock mounts grip the body of the microphone or light (helping to stop vibrations from the lectern and stage getting into the microphone - every sound technicians nightmare!)
More about this Waterfall school lectern:
The Waterfall School Lectern has no internal wiring. Instead you supply your own microphone or light or cables. You can purchase a light or microphone through us (see the "You might be interested in" section at the bottom of this page.)
You simply drop the cables through the body of the lectern and connect them to your sound system. See the diagrams to see how this works. The lectern stands strong, with graceful authority. The triangulated aluminium construction makes it lightweight and yet very tough. It has a large area at the front for signage and can be carried on and off of a stage or platform by one person. It is powder coated in a shade of black, with a slightly textured finish. The paint is extremely hardwearing and forgiving if it is accidentally damaged. In fact, small scratches can be touched up with a black marker if need be.
Unlike other corporate style lecterns which have very limited area at the front for signage, this lectern has a very generous area at the front for a logo or slogan. It is straight forward for a local signwriter, such a Signarama to apply your school or educational institutions logo or slogan onto this lectern.
All in all, this lectern is bound to induce huge lectern envy from visiting Principals!
OUT OF STOCK - sorry, this product is currently out of stock. Please email us at steve@procson.com for more info.
SKU:
school-lectern-w--b2-s17-t17-p17

Freight
Freight Prices
| | | | | |
| --- | --- | --- | --- | --- |
| | Australia | Australia-Express | Rest of World | Rest of World-Express |
| $0-100 total order | AUD $15 | AUD $30 | AUD $40 | AUD $50 |
| $100-500 total order | AUD $15 | AUD $50 | AUD $70 | AUD $90 |
| $500+ total order | AUD $25 | AUD $100 | AUD $100 | AUD $150 |
Add 10% GST to orders sent within Australia
Freight Times
| | | | |
| --- | --- | --- | --- |
| | Australia | Asia/Pacific | Rest of World |
| Normal freight | 1-7 days | 4 days | 8 days |
| Express freight | 1-3 days | 2-3 days | 5 days |
-
Asia/Pacific includes Singapore, HK, Malaysia, Indonesia, Korea, Japan, Taiwan, NZ.
- Orders are sent every Tuesday and Friday. This will affect the freight time.
For example, if you order on a Friday afternoon, your order may not go until the following Tuesday.
- May take extra time to clear customs in your country.
- Freight times are a guide only. Times may vary.
- See
How To Buy
page for more exact times within Australia.
You might be interested in...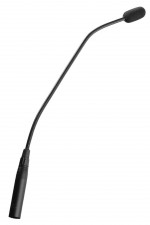 About this lectern microphone- Countryman- noise cancelling:

We tested every lectern microphone we could get our hands on and found this to be the best by far.
​Like noise-cancelling headphones, but in a microphone. This means you don't need a shock mount. You need phantom power on your sound desk or amplifier.

More about this lectern...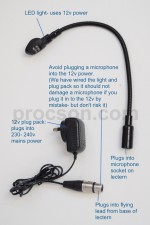 About this lectern light:

This LED light uses 12v power and plugs into a socket on the lectern top.
It comes with a 12v plug pack which plugs into 230-240v mains power at one end and into flying lead (1.75m long). You can use this with either of the following:
1. Arc2 lectern with mic mounts:
Plug the light into one of the sockets in...