Lectern Microphone
Lectern Microphone- Countryman- noise cancelling
About this lectern microphone- Countryman- noise cancelling:
We tested every lectern microphone we could get our hands on and found this to be the best by far.
​Like noise-cancelling headphones, but in a microphone. This means you don't need a shock mount.
More about this lectern microphone:
They are made in the USA. We sell them at the price we get them for.
We are the main purchaser of this type of microphone in Australia, so we get them at a great price (they are normally $600.) You really only need one microphone. The purpose of 2 sockets is to have a spare one for back up. We find that this is the best microphone to use with our lecterns. Because you can bend it, you can adjust it closer or further away. The noise reduction is superb.
SKU:
lectern-microphone-countryman--m1
Lectern Microphone- Countryman- noise cancelling

Freight
Freight Prices
| | | |
| --- | --- | --- |
| | Australia | Rest of World |
| $0-100 total order | AUD $10 | AUD $25 |
| $100-500 total order | AUD $15 | AUD $55 |
| $500+ total order | AUD $25 | AUD $95 |
| Express freight - add | AUD $40 | AUD $50 |
Add 10% GST to orders sent within Australia
Freight Times
| | | | |
| --- | --- | --- | --- |
| | Australia | Asia/Pacific | Rest of World |
| Normal freight | 1-7 days | 4 days | 8 days |
| Express freight | 1-3 days | 2-3 days | 5 days |
-
Asia/Pacific includes Singapore, HK, Malaysia, Indonesia, Korea, Japan, Taiwan, NZ.
- Regular orders are sent every Thursday. Express orders are normally sent immediately.
- May take extra time to clear customs in your country.
- Freight times are a guide only. Times may vary.
- See
How To Buy
page for more exact times within Australia.
You might be interested in...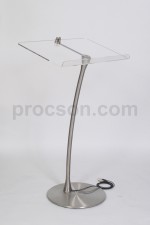 About this pulpit with microphone mounts:

This is the Arc2 pulpit with minimalist microphone mounts.
The mounts allow you to have one or two podium microphones or a podium microphone and a light. We spent 5 years on and off trying different solutions for the most minimal microphone mounting possible. We wanted a streamlined look, which did not...
About this Waterfall school lectern:

This lectern has been designed with centres of education in mind. It is strong yet lightweight and includes shock mounts to help with sound issues.
It is durable yet easy to move around. If your school or institute of education requires a logo or slogan to be applied to the front, it has a large area...