Budget Lectern
Arc0 lectern- 48cm/19"- clear top
About this budget lectern:
This is the lightest stainless steel and clear plastic lectern in Australia.
This makes it portable and convenient for speakers and preachers who need to move it on and off a stage or even from venue to venue. Whenever you need to speak from a lectern, you can take it with you.
It has a single curved stem. This means that the audience or congregation can see you more clearly. This can help the listeners concentrate better on you and your speech or lecture, rather than if you were standing on stage behind something that would hide you while you talk to them.
More about this budget lectern:
The stem and base are made from high quality stainless steel; 304 grade.
This is the same kind of stainless steel that is widely used in high quality kitchen sinks. The advantage of this is that there is no paint to scratch off, so it will endure years of lectures, speeches and sermons very well!
It has a clear scratch resistant plastic top. This is 48cm wide which is plenty of room for a bible or speaking notes.
This is our lightest version. Even an 8 year old child can carry it. An adult can easily carry it with one hand.
We make our lecterns in Australia. Because of this, we can take advantage of high end technology and skilled technicians. We use laser cutting and other computer controlled machinery to cut and make our parts. Plus, you are supporting local manufacturing jobs.
It is easy to assemble. We don't expect a preacher or orator to be skilled with tools, that is our job. The stem comes as one part, so all you have to do is screw on the square base and the top. The stems are made using special machinery that we have built ourselves for this purpose. This makes the stem strong and durable. As a result, the refined geometry means that it holds up to 8kg (thats the weight of 17 x iPad air tablets or 4 x Macbook Pro laptops.)
Anti reflective film is not available for this lectern. Anti reflective film is needed if you have a projector screen behind the preacher.
For more information on anti reflective film, click here.
If you need anti reflective film you might wish to consider the Arc2 range- they have optional AR film.
SKU:
budget-lectern-a048cl
Arc0 lectern- 48cm/19"- clear top

Freight
Freight Prices
| | | |
| --- | --- | --- |
| | Australia | Rest of World |
| $0-100 total order | AUD $10 | AUD $25 |
| $100-500 total order | AUD $15 | AUD $55 |
| $500+ total order | AUD $25 | AUD $95 |
| Express freight - add | AUD $40 | AUD $50 |
Add 10% GST to orders sent within Australia
Freight Times
| | | | |
| --- | --- | --- | --- |
| | Australia | Asia/Pacific | Rest of World |
| Normal freight | 1-7 days | 4 days | 8 days |
| Express freight | 1-3 days | 2-3 days | 5 days |
-
Asia/Pacific includes Singapore, HK, Malaysia, Indonesia, Korea, Japan, Taiwan, NZ.
- Regular orders are sent every Thursday. Express orders are normally sent immediately.
- May take extra time to clear customs in your country.
- Freight times are a guide only. Times may vary.
- See
How To Buy
page for more exact times within Australia.
You might be interested in...
About this Pulpit Cleaner:

To prolong the life of and to clean your lectern and lectern table, we recommend you use Procson Pulpit top Cleaner.
It contains Kunstoff, the only cleaning fluid recommended by the Australian acrylic industry. Kunstoff is a German made anti static cleaning liquid. We do not recommend you using regular cleaners...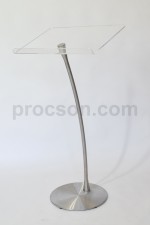 About this economy lectern:

This is the original version of the Arc pulpit as used by Hillsong Church.
It is an economical pulpit for churches on a tighter budget. Slightly heavier than the Arc2 but still easy to lift with one hand. It is made in Australia by Procson because we are obsessed with quality.

This is a re-release of the original...