Lectern
Arc1 lectern- 60cm/24" wide- clear top
Summary
-Timeless geometric shapes
-Fixed height
-Clear top (no anti reflective film)
-Top is 60cm/24" wide by 37cm/14.5"
-Stem and base in 304 stainless steel, top in plexiglass acrylic
-Stability rating 6.5/10
-Lift with one hand
-Stem has been individually 'fine tuned'
-Made in Australia
In Detail
Timeless geometric shapes
The Arc0, Arc1 and Arc2 use 'formal' shapes like circles, rectangles, cones. Used well, these have a timeless appeal. Particularly when made well in a high quality material like stainless steel. A good example is architectural looking bathroom taps, hand rails and door handles like those made by the danish company dline. Many of these designs are from the 1950's but they still seem modern.
Fixed height
Height 101cm (40") high
Clear top (no anti reflective film)
This top is clear. It has no Anti reflective film.
A clear pulpit top acts like a mirror and reflects stage lighting onto a back wall or screen. AR film is particularly important if you have a projector screen behind the preacher (most churches do).
Click here for more information on anti reflective
film.
This is a good size if you need to move the pulpit around a lot thought doorways (a regular doorway is only 80cm wide so you need to be careful if the pulpit is 70cm wide)
If you need to transport the pulpit, a good tip is to put it across the back seat of a car. Put the centre seatbelt over the stem to keep it in place.
Stem and base in 304 stainless steel
Our pulpits are stainless steel (grade 304). They are quite different in person to the steel steel (mostly chinese) pulpits elsewhere. Those pulpits have a thin chrome finish that will eventually flake off.
The stem is a brushed finish (a polished finish would cause unsightly reflections from stage lighting).
The base has a rotational polish. This is not a regular finish. It is a special finish developed by us that resits fingerprints and is more durable. We had to make a special machine to do it.
304 is the high quality stainless steel used on European kitchen sinks.
It is more expensive and difficult to make it from stainless steel than form other materials, but we want it to last longer than you!
If you damage for example the stem, it is stainless steel throughout, so there is no paint or plating to chip off. In many cases you can use a 3M scotch brite pad to hide the mark.
Stainless steel can still get 'tea staining' if left outside, so please keep it inside.
The top is made from acrylic from the German brand Plexiglass. This is more expensive that regular acrylic, but it is better quality and does not yellow over time.
We use acrylic because it is the most scratch resistant clear plastic (while polycarbonate is more bullet proof, amazingly it scratches easily!). Acrylic can break. We keep replacement tops in case your top gets damaged.

Stability rating 6.5/10
The Arc1 is not as stable as the Arc2 and Arc3.
We do a stability test called the 'nodding dog test'. This is when an object is dropped from a certain height and then we time how long the pulpit takes to come to a rest. In this the Arc1 takes 2.3 x longer to come to a rest than the Arc2 (and Arc3). So the Arc2/ Arc3 are 2.3x more stable feeling than the Arc1.

Lift with one hand
Most people can lift this pulpit with one hand.
Adjust- a person with reasonable strength can lift this with one hand.
In the early days, the first pulpits I made were nice looking, but heavy. I watched in embarrassment at our church as the petit stage hand struggled to lift it off the stage. I vowed to make it lighter. By making prototypes, I gradually shaved a few grams off the weight at a time as if I was developing a racing bicycle. Pretty soon it was light enough to lift easily with one hand. It was lighter to ship too.

Stem has been individually 'fine tuned'
So that the stem will not lean left or right. It will also have the correct curve.
Why?
The spring back of each piece of stainless steel is different. Stainless steel also warps slightly when it is welded.
This means that after manufacture, every stem needs to be carefully manipulated to make it just right. This is done by a skilled technician using machines that we have made ourselves.
Made in Australia
Although it looks simple, it's complicated to make. To do something this complex requires our own custom made machines and special set ups. It requires constant checking to make sure everything is done correctly. Thats why we make it in our own factory, and by using engineers with specialised machines.
You may have read some of the trials and problems we have overcome in making our pulpits.
You can imagine it is not possible to just pass this knowledge onto someone in a far away country and expect them to make it for us.
That's why we make them ourselves, and we make them here. So that we can do it properly. So that every day we can try to make them a bit better, a bit more efficiently.
A lot is said about cheap labour costs in other countries, but from experience we have found that if we just concentrate on a process and make it more and more efficient, we can do it so that the labour cost is reduced to a point where it doesn't matter that we are paying high wages.
We also see them at our churches on the weekend. That keeps us accountable.
Warranty and Returns
If you break a top within 12 months (unlikely), the replacement top is half price. Stem and base warranty 12 months. We expect you will use this for 20 years.
Returns- buyer pays return freight.
We have a very low return rate however- about 1 in 1500.
(most problems occur when a church orders a pulpit that is too tall/ too short/ top is too big or too small).
These are often solved by just sending a new part rather than needing to return the whole thing.
We are a small family company, so we are flexible.
Before you order, we suggest you use a tape measure to check that the pulpit is going to be a good size for you.

The story behind the Arc1
The Arc1 was the first pulpit in the Arc range. I designed it and showed it at the Hillsong conference. In the beginning I was working as a designer and making every one myself. It was 16 hours a day. The house we rented was full of pulpit parts. Pulpit tops were stored under the bed. I packed them on the dining room table.
Arc1 lectern- 60cm/24" wide- clear top

Freight
Freight Prices
| | | | | |
| --- | --- | --- | --- | --- |
| | Australia | Australia-Express | Rest of World | Rest of World-Express |
| $0-100 total order | AUD $20 | AUD $40 | AUD $50 | AUD $75 |
| $100-500 total order | AUD $20 | AUD $60 | AUD $90 | AUD $135 |
| $500+ total order | AUD $30 | AUD $120 | AUD $120 | AUD $180 |
Add 10% GST to orders sent within Australia
Freight Times
| | | | |
| --- | --- | --- | --- |
| | Australia | Asia/Pacific | Rest of World |
| Normal freight | 1-7 days | 4 days | 8 days |
| Express freight | 1-3 days | 2-3 days | 5 days |
-
Asia/Pacific includes Singapore, HK, Malaysia, Indonesia, Korea, Japan, Taiwan, NZ.
- Orders are sent every Tuesday and Friday. This will affect the freight time.
For example, if you order on a Friday afternoon, your order may not go until the following Tuesday.
- May take extra time to clear customs in your country.
- Freight times are a guide only. Times may vary.
- See
How To Buy
page for more exact times within Australia.
You might be interested in...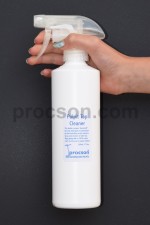 How do you care for your pulpit?

It is important to remember that the pulpit top (acrylic) and pulpit base (stainless steel) need different methods for cleaning. Carrying the pulpit correctly can also help preserve the life of the top.

How do you clean your pulpit top?
1. Procson Pulpit top Cleaner.
This contains Kunst-stoff- recommended...