Lectern
Arc1 lectern- 60cm/24" wide- clear top
About this economy lectern:
This is the original version of the Arc pulpit as used by Hillsong Church.
It is an economical pulpit for churches on a tighter budget. It is less stable and solid than the Arc2. It is easy to lift with one hand. It is made in Australia by Procson because we are obsessed with quality.
This is a re-release of the original Arc lectern – the Arc1. Hillsong Church first used this version. Hillsong now use the Arc2 and the Arc3, but the earlier version Arc1 is cheaper to make, so we have re-released it. It is great if your church is starting out or if you are looking for an elegant yet reasonably priced solution.
More about this economy lectern:
Weighing 8kg, this lectern is easy to move on and off stage.
At Procson, we use a specially developed hollow stem technology to make the stem light yet strong. The single curved stem means that the pulpit is less distracting for the audience or congregation. Churches say this makes it easier to concentrate on what the speaker has to say.

The radial brushed finish on the base is not a regular brushed finish (often called a scotch brite finish). We especially developed it to be more durable than a regular brushed finish. It gives a stong radial look. It has other advantages too. Firstly it reflects less glare than a regular brushed finish- so it is better for using with church lighting. Secondly it helps to hide fingerprint and foot marks.

All screws are hidden. This pulpit comes flat packed and takes less than 5 minutes to assemble, even for a novice. Tools and instructions are included. The top is made of scratch resistant clear plastic made by German brand Plexiglass (also known as acrylic, Perspex or lucite). It is 24"/60cm wide. This lectern is intended for many years of use. In the unlikely event that you break the top, a replacement is available.
Anti reflective film is not available for this lectern. Anti reflective film is normally needed if you have a projector screen behind the preacher. Click here for more info on anti reflective film. If you need anti reflective film you might wish to consider the Arc2 range- they have optional AR film. Please check out the diagram above or the video below which explain the differences between the Arc1 and the Arc2 lecterns.
Arc1 lectern- 60cm/24" wide- clear top

Freight
Freight Prices
| | | | | |
| --- | --- | --- | --- | --- |
| | Australia | Australia-Express | Rest of World | Rest of World-Express |
| $0-100 total order | AUD $15 | AUD $30 | AUD $40 | AUD $50 |
| $100-500 total order | AUD $15 | AUD $50 | AUD $70 | AUD $90 |
| $500+ total order | AUD $25 | AUD $100 | AUD $100 | AUD $150 |
Add 10% GST to orders sent within Australia
Freight Times
| | | | |
| --- | --- | --- | --- |
| | Australia | Asia/Pacific | Rest of World |
| Normal freight | 1-7 days | 4 days | 8 days |
| Express freight | 1-3 days | 2-3 days | 5 days |
-
Asia/Pacific includes Singapore, HK, Malaysia, Indonesia, Korea, Japan, Taiwan, NZ.
- Orders are sent every Tuesday and Friday. This will affect the freight time.
For example, if you order on a Friday afternoon, your order may not go until the following Tuesday.
- May take extra time to clear customs in your country.
- Freight times are a guide only. Times may vary.
- See
How To Buy
page for more exact times within Australia.
You might be interested in...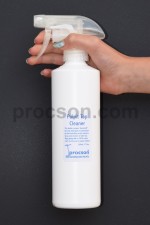 How do you care for your pulpit?

It is important to remember that the pulpit top (acrylic) and pulpit base (stainless steel) need different methods for cleaning. Carrying the pulpit correctly can also help preserve the life of the top.

How do you clean your pulpit top?
1. Procson Pulpit top Cleaner.
This contains Kunst-stoff- recommended...