Offering Containers with Lids
Offering Container with Lid
About this Offering Container with Lid:
This is the offering container that comes with a lid.
This is our solution to one of the most persistent product problems in the modern church – an alternative offering container to the 'Pentecostal plant pot container'.
So here are the reasons we think you should consider getting our offering containers:
As one church leader told us, "it's embarrassing to ask people to put their money into a plant pot container"
The peanut shape is ergonomically designed to make them easy to grip on the outside, even for children
They are 18cm high, so large envelopes was disappear inside
They are textured on the outside to stop them jamming into one another when they are stacked
The walls are 4 times thicker than the standard plant pot container, so they will last
They are made from polypropylene, one of the most sustainable types of plastic around. It is great for recycling
They do not have any holes, so coins won't fall through
A lid is available to stop 'withdrawals'
It will fit in with your Swirla communion trays
Only $18 for a container with anodised aluminium lid.
Please note: ​The offering containers are relatively inexpensive, but bulky to send. Often they cost more to send than we are charging you. For this reason they are not returnable. Please see the diagram showing the dimensions to check if they are the right size for you. If you are worried, it might be a good idea to just order one - to check if its going to be right for you.
Offering Container with Lid

Freight
Freight Prices
| | | | | |
| --- | --- | --- | --- | --- |
| | Australia | Australia-Express | Rest of World | Rest of World-Express |
| $0-100 total order | AUD $20 | AUD $40 | AUD $50 | AUD $75 |
| $100-500 total order | AUD $20 | AUD $60 | AUD $90 | AUD $135 |
| $500+ total order | AUD $30 | AUD $120 | AUD $120 | AUD $180 |
Add 10% GST to orders sent within Australia
Freight Times
| | | | |
| --- | --- | --- | --- |
| | Australia | Asia/Pacific | Rest of World |
| Normal freight | 1-7 days | 4 days | 8 days |
| Express freight | 1-3 days | 2-3 days | 5 days |
-
Asia/Pacific includes Singapore, HK, Malaysia, Indonesia, Korea, Japan, Taiwan, NZ.
- Orders are sent every Tuesday and Friday. This will affect the freight time.
For example, if you order on a Friday afternoon, your order may not go until the following Tuesday.
- May take extra time to clear customs in your country.
- Freight times are a guide only. Times may vary.
- See
How To Buy
page for more exact times within Australia.
You might be interested in...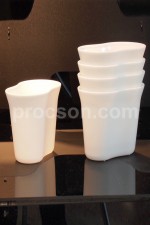 About this offering container:

Take a guess at the one item that we here at Procson have been asked for the most, over the last 7 years?
The answer is…an offering container! So many people would ask us about an update to the 'Pentecostal plant pot container' that so many modern churches are currently using to take the offering. So after...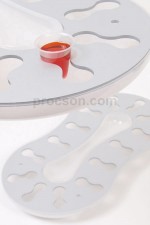 About this Communion Tray:

Several years ago, our designer and owner Stephen Procter was given an old style gold communion tray by Hillsong Church and asked to design something more modern. This was the result!
With it's anodised aluminium plate, impact resistant acrylic base and peanut shape, it was a radical departure from the traditional...