Communion Tray
Communion Tray
About this Communion Tray:
Several years ago, our designer and owner Stephen Procter was given an old style gold communion tray by Hillsong Church and asked to design something more modern. This was the result!
With it's anodised aluminium plate, impact resistant acrylic base and peanut shape, it was a radical departure the traditional gold, silver and wooden communion trays. Originally made in limited batches, they have since been revamped for mass production.

More about this Communion Tray:
The kind of cups, which fit the tray, are the ones sold by most church supply stores (normally $20-$30 per 1000.)
These are approximately 2-3cm in diameter and 3cm high. Glasses of this size can also be used. The centre of the tray is where you can place bread/wafers/crackers which have been broken or cut up into small pieces.
The trays are stackable. We recommend stacking them up to 6 high although we have seen fully laden trays stacked 20 high and carried with ease! A pip on each foot of the tray fits in to the tray below helping to keep them safely in place.
Each tray is 22.5cm long x 42cm wide x 4cm high. We recommend rinsing the trays by hand, as opposed to putting them in a dishwasher. This will preserve the plastic.
SKU:
communion-tray--c7-c8

Freight
Freight Prices
| | | |
| --- | --- | --- |
| | Australia | Rest of World |
| $0-100 total order | AUD $10 | AUD $25 |
| $100-500 total order | AUD $15 | AUD $55 |
| $500+ total order | AUD $25 | AUD $95 |
| Express freight - add | AUD $40 | AUD $50 |
Add 10% GST to orders sent within Australia
Freight Times
| | | | |
| --- | --- | --- | --- |
| | Australia | Asia/Pacific | Rest of World |
| Normal freight | 1-7 days | 4 days | 8 days |
| Express freight | 1-3 days | 2-3 days | 5 days |
-
Asia/Pacific includes Singapore, HK, Malaysia, Indonesia, Korea, Japan, Taiwan, NZ.
- Regular orders are sent every Thursday. Express orders are normally sent immediately.
- May take extra time to clear customs in your country.
- Freight times are a guide only. Times may vary.
- See
How To Buy
page for more exact times within Australia.
You might be interested in...
About this offering container:

Take a guess at the one item that we here at Procson have been asked for the most, over the last 7 years?
The answer is…an offering container! So many people would ask us about an update to the 'Pentecostal plant pot container' that so many modern churches are currently using to take the offering. So after...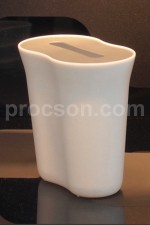 About this Offering Container with Lid:

This is the offering container that comes with a lid.
This is our solution to one of the most persistent product problems in the modern church – an alternative offering container to the 'Pentecostal plant pot container'.

So here are the reasons we think you should consider getting our offering...