Package Deals for Churches
Adjustable Arc2 & Water Table Package
About this church pulpit and table set (with AR film and covers)
Get free covers when you order this pulpit and table package.
This Arc pulpit is adjustable in height, making it suitable for use by people in wheelchairs or people who are very tall. It was somewhat of an engineering challenge, with this lectern having five different height positions and a special anti slip mechanism, which means it won't slip down, even if it is not properly tightened. It is the lightest adjustable lectern in its class and can be lifted with one (strong) hand. Both the lectern and table come with anti reflective film. Click here to learn more about anti reflective film.
More about this church pulpit and water table set:
The challenge of getting 2 curved tubes to slide within one another proved to be difficult.
The idea seemed fairly simple- 2 tubes bent to the same curve, with an adjustment mechanism. The reality turned out to be difficult. It's the alignment that's the problem. Making a straight stem that adjusts is easy. Making a curved stem that adjusts is something completely different. At each stop point, everything has to align perfectly. Otherwise the lectern top will tilt slightly to the side. Many of our lecterns are used on TV, so we couldn't have it leaning slightly. (In addition it would offend our need for engineering perfection). We tried method after method. Finally we ended up with a process that uses 7 welding jigs, and 5 alignment jigs (a jig is a purpose made brace with all sorts of clamps and braces to align something). The stems travel back and forth 5 times across Sydney while each small process is done by us and other specialists. So it all looks very simple. But the process of getting there is not. My father in law once described in detail the process of aligning torque meters (a measuring device) inside the shaft of an 80 million dollar helicopter. It seems more complicated than making an adjustable pulpit stem- but not by much.
Another problem arose, where we needed to develop a non-slip adjustment mechanism to avoid the annoying problem of the pole slipping down mid-sermon. If you have used a music stand to preach from- you will possibly have experienced it slipping down. This mechanism needed to be strong and reliable, even over many years of use.
So after some research and development, we came up with a special clicking mechanism. It is a mechanism that will still be reliable after years of use (unlike some other adjustable pulpits).
We invested significant time and money reengineering all the parts to make them as light as possible. We developed a new base. It is more rigid yet not as heavy and very stable on uneven surfaces. The result is that the Arc2 adjustable pulpit is only 2kg/4pounds heavier than the regular Arc2.
Overall, the Adjustable Arc2 retains the same style of the regular Arc2 but has been engineered with it's own parts. Really, they are very different but still look the same. This lectern is the perfect solution for the very small or very tall. Or if you simply want to have an adjustable option.
So what are the disadvantages of the adjustable pulpit?
-It's heavier than the regular Arc2. We found that small weigh differences around the 8-15 kg mark feel a lot heavier than they actually are (for example people perceive an extra 0.5kg to feel like an extra 1kg). So while its only 2kg/ 4lbs heavier- it feels like more.
-It has a black line where it changes from the larger outer tube to the smaller inner tube.
-Many churches end up not using the adjustable function. So the lectern gets set at one height and is not changed.
- if you are tall, a cheaper alternative is the tall version of the Arc2. This is 111cm/ 44" to the bottom of the lip where the lower edge of the bible rests (instead of the regular 101cm/ 40").
The table is 70cm (28") high rather than a normal coffee table which is 44cm (18") high. This means that items are within easy reach of the preacher, without being so high that items are distracting. It is a great partner to the pulpit, there to hold a water glass, books, resources, props etc.
If purchasing this package, you receive free covers (normally $40 each) for both the pulpit and table. These will help to prolong the life of the pulpit and table tops, when not in use. A cover is essential if the lectern is going to be moved around, as it helps to prevent scratches and dust. Quick assembly, tools provided.
Like our other pulpits, its made in Australia.
Adjustable Arc2 & Water Table Package

Freight
Freight Prices
| | | | | |
| --- | --- | --- | --- | --- |
| | Australia | Australia-Express | Rest of World | Rest of World-Express |
| $0-100 total order | AUD $20 | AUD $40 | AUD $50 | AUD $75 |
| $100-500 total order | AUD $20 | AUD $60 | AUD $90 | AUD $135 |
| $500+ total order | AUD $30 | AUD $120 | AUD $120 | AUD $180 |
Add 10% GST to orders sent within Australia
Freight Times
| | | | |
| --- | --- | --- | --- |
| | Australia | Asia/Pacific | Rest of World |
| Normal freight | 1-7 days | 4 days | 8 days |
| Express freight | 1-3 days | 2-3 days | 5 days |
-
Asia/Pacific includes Singapore, HK, Malaysia, Indonesia, Korea, Japan, Taiwan, NZ.
- Orders are sent every Tuesday and Friday. This will affect the freight time.
For example, if you order on a Friday afternoon, your order may not go until the following Tuesday.
- May take extra time to clear customs in your country.
- Freight times are a guide only. Times may vary.
- See
How To Buy
page for more exact times within Australia.
You might be interested in...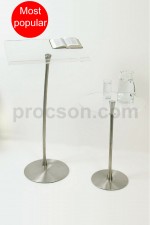 About this church pulpit and table set (with AR film and covers)

Get free covers when you order this, our most popular combination.
This is our most popular pulpit with our most popular water table. You will see it at large churches like Hillsong Church and many smaller churches. It is the most popular because while all churches are...