Package Deals for Churches
Adjustable Arc2 & Water Table Package
About this church pulpit and table set (with AR film and covers)
Get free covers when you order this pulpit and table package.
This Arc pulpit is adjustable in height, making it suitable for use by people in wheelchairs or people who are very tall. It was somewhat of an engineering challenge, with this lectern having five different height positions and a special anti slip mechanism, which means it won't slip down, even if it is not properly tightened. It is the lightest adjustable lectern in its class and can be lifted with one (strong) hand. Both the lectern and table come with anti reflective film. Click here to learn more about anti reflective film.
More about this church pulpit and water table set:
We enjoyed the challenge of trying to get 2 curved tubes to slide within one another, even though it proved to be difficult.
Then another problem arose, where we needed to develop a non-slip adjustment mechanism to avoid the annoying problem of the pole slipping down mid-sermon. This mechanism needed to be strong and reliable, even over many years of use.
So after much thought and research and development, we came up with a special clicking mechanism. It is a mechanism that will still be reliable after years of use (unlike other adjustable pulpits). We invested significant time and money reengineering all the parts to make them as light as possible. In particular, we developed a new base. It is more rigid yet not as heavy and very stable on uneven surfaces. The result is that this base is only 1.8kg/4pounds heavier than the regular Arc2.
Overall, the Adjustable Arc2 retains the elegance and style of the regular Arc2 but has been precision engineered with it's own parts. Really, they are very different but still look the same. This lectern is the perfect solution for the very small or very tall. Or if you simply want to have an adjustable option.
The table is 70cm (28") high rather than a normal coffee table which is 44cm (18") high. This means that items are within easy reach of the preacher, without being so high that items are distracting. It is a great partner to the pulpit, there to hold a water glass, books, resources, props etc.
If purchasing this package, you receive free covers (normally $40 each) for both the pulpit and table. These will help to prolong the life of the pulpit and table tops, when not in use. A cover is essential if the lectern is going to be moved around, as it helps to prevent scratches and dust. Easy assembly, tool provided.
Proudly Australian made.
Due to high demand, this is temporarily out of stock.
We are making more! We expect to have them finished in 8 weeks.
SKU:
adjustable-a70ar--table-ar
Adjustable Arc2 & Water Table Package

Freight
Freight Prices
| | | |
| --- | --- | --- |
| | Australia | Rest of World |
| $0-100 total order | AUD $10 | AUD $25 |
| $100-500 total order | AUD $15 | AUD $55 |
| $500+ total order | AUD $25 | AUD $95 |
| Express freight - add | AUD $40 | AUD $50 |
Add 10% GST to orders sent within Australia
Freight Times
| | | | |
| --- | --- | --- | --- |
| | Australia | Asia/Pacific | Rest of World |
| Normal freight | 1-7 days | 4 days | 8 days |
| Express freight | 1-3 days | 2-3 days | 5 days |
-
Asia/Pacific includes Singapore, HK, Malaysia, Indonesia, Korea, Japan, Taiwan, NZ.
- Regular orders are sent every Thursday. Express orders are normally sent immediately.
- May take extra time to clear customs in your country.
- Freight times are a guide only. Times may vary.
- See
How To Buy
page for more exact times within Australia.
You might be interested in...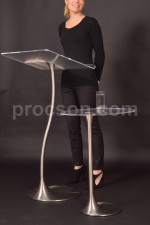 About this Arc3 church pulpit and Arc3 table package

Get free covers when you order this, our most refined lectern and table combination.
The Arc3 pulpit and table are a radical departure from traditional geometric shapes. They use organic shapes (non primary shapes). This creates a more flowing appearance and a more dynamic...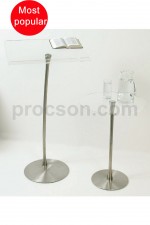 About this church pulpit and table set (with AR film and covers)

Get free covers when you order this, our most popular combination.
You will see it at large churches like Hillsong Church and many smaller churches. It is the most popular because while all churches are different, this suits a typical church stage.

More about this...